Sterne, Kessler, Goldstein & Fox P.L.L.C.
On April 10, 2019, the United States Court of Appeals for the Federal Circuit redesignated as precedential its January 14, 2019 decision upholding the Trademark Trial and Appeal Board's (TTAB) decision affirming refusal of registration of the CASALANA mark based on applicant, Siny Corp.'s failure to show the required use in commerce for the goods as required under Section 1(a) of the Lanham Act.  See In re Siny Corp., No. 18-1077, 2019 BL 127099 (Fed. Cir. April 10, 2019) (Opinion by Chief Judge Prost) [precedential]. The specimen at issue was a webpage showing the goods and a phone number to call for placing orders, but the Court found the webpage insufficient to serve as a "point of sale" display, deeming it instead to be mere advertising.
Siny had filed a use-based application for registration of the mark CASALANA for "knit pile fabric made with wool for textile in the manufacture of outwear, gloves, apparel, and accessories," and submitted a specimen described as a "printout of Applicant's point of sale website," containing the wording "For sales information," a number to call, and an email address (yungd@montereymills.com), via which consumers could contact applicant to purchase the goods. 
Finding that the webpage did not contain the minimum information necessary for ordering the goods, such as quantities, cost, payment options, or shipping information, the Examining Attorney issued a Final Office Action refusing registration. The applicant appealed, and the TTAB upheld the Examining Attorney's refusal, noting that "all important aspects of the [purchase] must be determined from information extraneous to the web page." In re Siny Corp., Serial No. 86754400 (August 17, 2017) [not precedential] (Majority opinion by Judge Anthony R. Masiello) found here. The Board also noted that Siny had not submitted any additional evidence or information to supplement its specimen and document the manner in which purchasers of applicant's specialty products are actually made using the website.
Nothing in the Trademark Manual of Examining Procedure (TMEP) (at least not yet) specifically requires that a point of sale display show price ranges of products, minimum quantities one may order, accepted methods of payment, or shipping information; the TMEP guidelines are described and illustrated in TMEP §§904.03(i)(C) and 904.03(i)(C)(2), as shown in the below example of an acceptable display (reproduced from TMEP):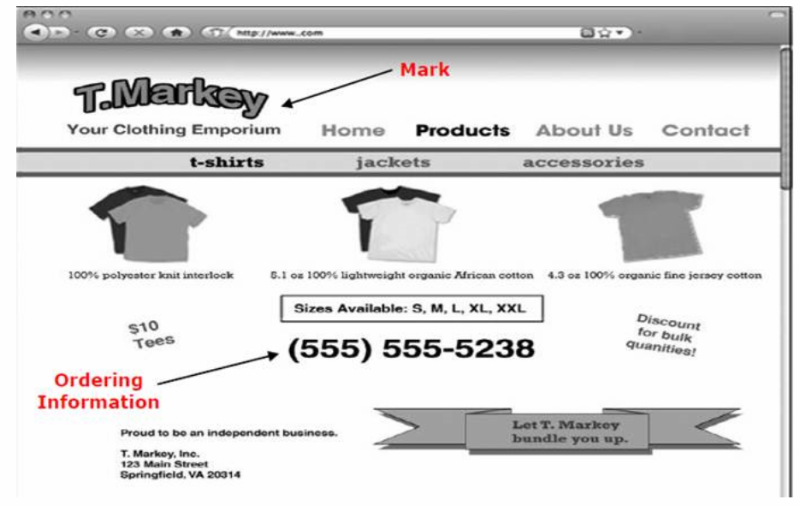 The purpose of a point of sale display is to provide sufficient information to a prospective consumer so that they can make a purchasing decision and place an order. A menu in a restaurant and a detailed placard sitting on a spa counter are two easily-understood examples of point of sale displays. For websites relating to consumer products, the information necessary to place an order should be easily discernible to at least the typical consumer in the particular industry.
In light of this decision, and the fact that Examining Attorneys are taking an even closer look at electronic specimens in particular, applicants should consider the following when contemplating using electronic "point of sale" displays to show use of the mark in association with products:
First, for typical consumer goods, take care to provide as much information as possible to allow consumers to make a purchasing decision and place an order, i.e., type of payment accepted, the cost or range of prices, sizing or quantities available for the products in question, and shipping information – in addition to basic contact information necessary to make the purchase.
Second, if the products are so specialized or technical as to require assistance from a salesperson, or if the manner of sale may vary, consider supplementing the application record with evidence as to the actual manner of sales, such as detailed affidavits signed by the sales representatives and information that explains the sales process relating to the particular industry. 
Finally, for specimens that are photographs from actual point of sale displays at a location, especially in those circumstances when prices are not usually displayed, i.e., at a trade show or fair for wholesalers or resellers, consider submitting photographs of the booth that show the mark associated with the goods and providing information and evidence describing how purchases are typically made at or as a result of these events or in the industry.
As with any specimen, the USPTO will consider it in its context to determine if it sufficiently associates the mark with the goods/services; but, by following the guidelines when creating or revising a point of sale webpage, applicants can likely improve their chances of having their specimen(s) accepted. 
---
Sterne Kessler's Trademark, Advertising, and Anti-Counterfeiting practice is designed to help meet the intellectual property needs of companies interested in developing and maintaining strong brands around the world.  For more information, please contact Monica Riva Talley or Tracy-Gene G. Durkin.
---
This article appeared in the April 2019 issue of MarkIt® to Market. To view our past issues, as well as other firm newsletters, please click here.