Sterne, Kessler, Goldstein & Fox
Rule 36 is a single sentence affirmance. Yet to explain the impact of a Rule 36 decision on later filed cases, the Court needed to issue a 7-page precedential decision. In Virnetx v Apple the Court held Rule 36 creates collateral estoppel for everything decided below, in this case whether a document was a printed publication under the law.
With the continued disposition of a large percentage of appeals by Rule 36, both sides of the "v" need to be cognizant of the impact the lower tribunal's words have on future cases.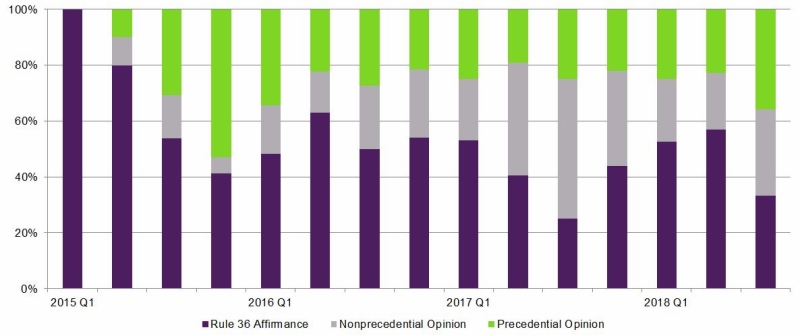 If the lower tribunal failed to fully articulate its positions clearly or includes ambiguous language, their decision can haunt both parties when a Rule 36 decides their appeals. It might be worth a request for reconsideration or rehearing to have the lower tribunal clarify ambiguous positions.
For more discussion on Rule 36, please refer to our February newsletter on Rule 36 and our client's cert petition and its related amicus brief.
---
This article appeared in the December 2018 issue of PTAB Strategies and Insights. To view our past issues, as well as other firm newsletters, please click here.