Sterne, Kessler, Goldstein & Fox
Speed is everything in the business world.  The fastest company to market wins a competitive advantage.  However, investors are often reluctant to back new products that do not have patent protection, and backlogs at the US Patent and Trademark Office (USPTO) can delay the grant of a patent by years.

To help inventors obtain patent protection more quickly, the 2011 America Invents Act (AIA) established a new expedited patent review program called Prioritized Examination, or "Track One."  Since its implementation, over 35,000 applications have been accelerated under Track One.[i]  Currently, Track One applications receive a first Office Action in about two months from the grant of prioritized status, compared to about 16 months for regular applications.[ii]  In addition, Track One applications receive a final disposition (e.g., a notice of allowance or final rejection) in about 6.5 months, compared to about 26 months, or longer, for regular applications.[iii]  (Additional Track One statistics are provided below in Table 1.[iv])  Accordingly, Track One has become a popular and powerful tool to fast-track U.S. patent protection.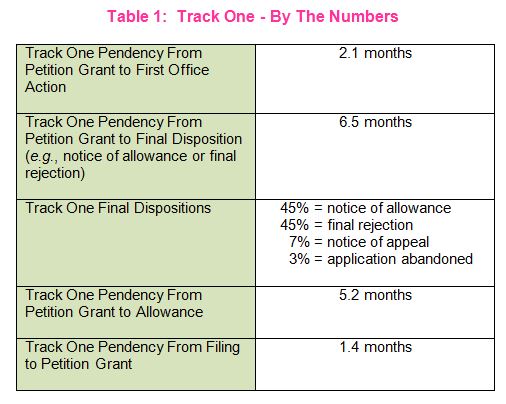 Requirements For Track One

While many other programs to expedite examination are burdensome and require, for example, a search of the prior art and comparison of the prior art to the invention, Track One accelerates examination with far fewer requirements, essentially granting prioritized status for just the payment of a fee.[v]  Track One can be requested at the time of filing an original utility or plant application or a single Track One request can also be granted in conjunction with a request for continued examination. 

To participate in Track One, applicants must file a Track One request form and pay a fee of $4,140 (reduced for small or micro entities).  For original applications, the application needs to be complete, meaning that the basic filing fee, search fee, examination fee, application size fee, and excess claims fee are paid (if applicable) and an executed inventor's declaration or application data sheet providing inventor information is filed.  Track One applications must also contain no more than four independent claims, no more than 30 total claims, and no multiple dependent claims.  Furthermore, Track One requests for utility applications must be filed electronically, while Track One requests for plant applications must be filed in paper. 

The USPTO relaxed the requirements for Track One in 2014, indicating that the requisite number of claims, application size fee, and excess claims fee were not required to be present on filing a Track One request.[vi]  Although, to avoid delays in processing a Track One request, the appropriate number of claims and payment of any necessary fees should be made on filing.

Other Considerations

Prioritized examination under Track One is terminated if any of the following events occur:  (i) the applicant requests an extension of time; (ii) a "final" Office Action is mailed by the USPTO; (iii) the applicant requests continued examination or suspension of action; (iv) the applicant files a notice of appeal, or (v) the application is amended to contain more than four independent claims, more than 30 total claims, or a multiple dependent claim.  Therefore, Track One may not be advisable if an applicant does not expect to be able to keep up with the rapid pace of examination.  Track One may also not be advisable for applications that require lengthy claim sets to capture all the important aspects of an invention. 

Finally, Track One is not available at the time of US national phase entry or for reissue applications, original design applications, provisional applications, or reexamination proceedings.  But, Track One can be requested in conjunction with a request for continued examination that is filed in a design or national phase application.  If Track One for an international application is desired, an applicant could file an application under 35 U.S.C. § 111(a) that claims the benefit of the international application with a Track One request, rather than entering US national phase.

There are numerous options to expedite examination at the USPTO.  All things considered, Track One has distinguished itself from the pack with its simplicity and effectiveness.  While there are circumstances that make Track One less desirable, it is likely an excellent choice for patenting most innovations and bringing them quickly to market.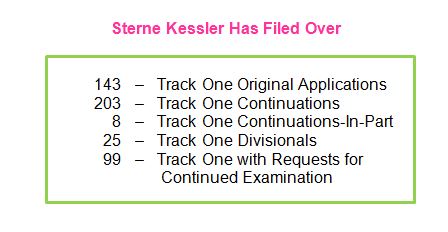 ---------------------------------------------
[i] https://www.uspto.gov/corda/dashboards/patents/main.dashxml?CTNAVID=1007
[ii] Id.
[iii] Id.
[iv] Id.
[v] https://www.uspto.gov/patent/initiatives/usptos-prioritized-patent-examination-program
[vi] https://www.gpo.gov/fdsys/pkg/FR-2014-03-05/pdf/2014-04806.pdf
---
This article appeared in the March 2017 issue of Global Patent Prosecution Newsletter. To view our past issues, as well as other firm newsletters, please click here.