Sterne, Kessler, Goldstein & Fox
On Friday, March 9, 2018, more than 50 participants at Sterne Kessler's inaugural Global IP Strategy Conference discussed the PTAB's reliance on expert declarations at the institution phase. The Board is relying on these declarations, but not in the way first imagined. Most practitioners worried that declarations that highlighted factual disputes would encourage the Board to institute trial to resolve the discrepancy. To avoid opening the door to institution of trial, practitioners demurred from filing declarations at the POPR stage or focused POPR declarations solely on legal issues. But that practice may not be the best strategy.

First, we are seeing a continued decline in institutions of trial – with the most recent quarter posting a proceeding institution rate below 60%: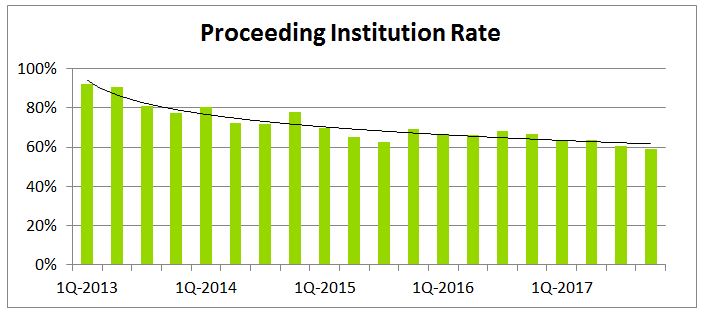 We examined 535 institution denials that were issued for petitions filed after May 2016, when the new PTAB rules came into effect allowing POPR expert declarations. In those 535 denials, 179 were in proceedings in which a POPR expert declaration was filed.
We read through 50 of those decisions and found 60% of the decisions included a specific discussion of the POPR expert declaration. Of those 60%:
80% of the time, PO's expert was credited for an obviousness ground;
10% of the time, PO's expert was credited for an anticipation ground;
10% of the time, PO's expert was credited for a claim construction argument.
Additionally, the Board appears to have allowed sur-replies in only 19 of the 179 cases. This shows that the risk-reward associated with submitting a POPR declaration is clearly in favor of the patent owner at this stage of the proceeding.

So what are the patent owners' best practices from this sampling of data?

First and foremost, find experts quickly after a petition is filed. After the petition is filed, the patent owner is almost immediately on the clock to submit a preliminary response, and the three-month deadline from the notice of filing date is almost never extended by the Board.

Use the expert to attack motivations to combine to show: no person of ordinary skill in the art would have understood how or why to make the combination, the combination would destroy the principle of operation, there is a teaching away from the combination, etc.

Patent owners should lean towards preparing and filing POPR declarations. Any additional costs incurred in this stage of the proceeding are substantially less than those associated with participation in an entire trial through Federal Circuit appeal. Winning early can reduce costs by 50-80%.

And what does this mean for petitioners?

Petitioners' best practices are to provide thorough technical analyses by their expert for both Graham and KSR arguments in their petitions to mitigate any future POPR expert attacks. Superficially discussing how prior art combinations might work together, or why a person of ordinary skill could turn from one reference to another is not enough. One must not only show both how and why a combination should be made, but must also underpin this discussion with both an expert declaration and corroborating evidence to demonstrate why the expert is right. An expert's blanket conclusions supported by cursory references to other documents are ripe for attack.

In the end, both sides of the "v" need to put more emphasis on motivation statements for obviousness or non-obviousness.
---
The statistics for this article were researched by Marketing & Business Development Coordinator, Patrick T. Murray. This article appeared in the March 2018 issue of PTAB Strategies and Insights. To view our past issues, as well as other firm newsletters, please click here.